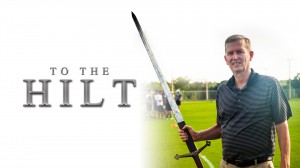 When COACH T speaks "To the Hilt"  – he gives his all. Coach Templeton has a passion for speaking to students, athletes and coaches. His relaxed humorous style allows him to connect with listeners of all demographics.
He has taught in the classroom and the gym for 35 years. He has spoken at multiple coaches' and teachers' conferences, church gatherings, school assemblies, graduations, camps, and for athletic teams.  He has taught at 4 schools, and coached 3 sports in both high school and college.
Coach T has a variety of lessons ranging from short "pregame style" talks to longer seminar format sessions. His focus is on character development, decision making, and motivation.
Coach T would love to come and speak to your team or group in whatever capacity suits your needs. You will be sure to be encouraged and motivated to apply his principles to your season and to your life, and take it "To the Hilt."
 Some of Coach T's Speaking topics
 Take Responsibility for Yourself
Find Your Niche
You Make Your Choices Then Your Choices Make You
There Are Some Things You Can't Play With
Your Friends Can Make You or Break You
It's Hard to Run a Race in a Raincoat
Don't Sell Yourself Short
Check out this video of one of Coach T's LIVE Sessions: